S-Bag vacuum cleaner bags are being used for most of bagged canister vacuum cleaners produced by Philips and Electrolux (Electrolux, Volta, Tornado, AEG-Electrolux). Due to this design of bags purchase of dustbags became really easy and simple. You have to remember only a logo "S-Bag" and don't have to keep in mind the model of your vacuum cleaner.
All types of S-Bag were designed to fit easily in vacuum cleaners. Also, all of them are equipped with durable and hygienic closing system that helps to keep dust inside while removing. It helps customers to avoid contact with dust cloud.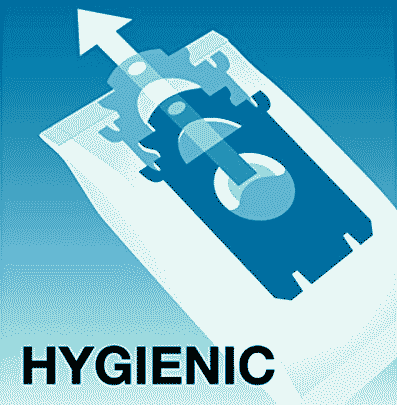 Depending on customer's needs, there are six types of S-Bag. They are based on the resistance to damages, filtration level and presence of an absorbing agent.
Short descriptions of all types of S-Bag:
S-Bag Classic bags are made of traditional high quality paper material, which has good filtration level and can capture over 95% of all dust particles. However please note, it is better to keep paper bags away from sharp pieces and water because they can cause tear and even damage.


---

S-Bag Classic Long Performance dustbags are made of resistant synthetic material. This type of bags is 40% more efficient than standard paper bags and captures up to 99.97% of all airborne allergens from escaping the vacuum. The synthetic material is resistant to tear and damage. Because of that, these bags can be used up to 50% longer than traditional paper bags.


---

S-Bag Ultra Long Performance bags are made of high performance synthetic material and could be used for up to 80% longer than paper dustbags. These bags have been designed for canister vacuums of extended capacity up to 5 Liters. Due to synthetic material, these bags capture dust and airborne particles of 0.3 microns and larger, ensuring full power suction without tearing the bag. It has 50% longer life than conventional paper bags. Also S-Bag Ultra Long Performance was tested and certified in the independent laboratory TÜV Rheinland Group.


---

S-Bag Anti-Allergy bags are made of highly effective synthetic material. This material has been awarded ECARF seal of quality and provides HEPA 10 level of filtration. It means that the bags capture and filter small dust particles, pollen, dust mites, mite allergens, and cat allergens as small as 1 micron (that is 15 times smaller than the diameter of a human hair). Therefore, S-Bag Anti-Allergy dustbags are the best choice for people with allergy.


---

S-Bag Anti-Odor bags are made of synthetic material which contains an odor absorbing agent in the form of a wax sprayed on the entire surface of the bag. This agent neutralizes unpleasant smells that develop inside bag. Thereby, S-Bag Anti-Odour dustbags are the best choice for pet owners. For optimum performance, please change bag every 30 to 60 days.


---

S-Bag Green dustbags are made of 100% natural or biodegradable resources such as corn starch, natural rubber and recycled cardboard. Such material decomposes in environment within 15 weeks. This type of bags has up to 50% longer life than a traditional paper bags. Also S-Bag Green dustbags were certified by TÜV Rheinland Group. However, unfortunately, this product is no longer available.


---
In conclusion, S-Bag is one of the most convenient dustbags which can satisfy the most demanding customers from people with allergy to people who care about environment.