Most people have bought a home vacuum cleaner or perhaps several of them, but if you are in the market for something a little more heavy duty, then you should be looking at an industrial vacuum cleaner instead. An industrial vacuum cleaner is considerably different than a home model in size, power, and ruggedness, not to mention the fact that they are built for many more hours' worth of use.
What Is an Industrial Vacuum Cleaner?
In most cases, an industrial vacuum cleaner is not just a more expensive home model. It is usually missing much of the attractiveness or "sexiness" of a home model. They usually don't come in colors or with certain features that you would need in a home. When you are looking at an industrial vacuum cleaner, you are looking at models that probably just don't get you too excited to vacuum.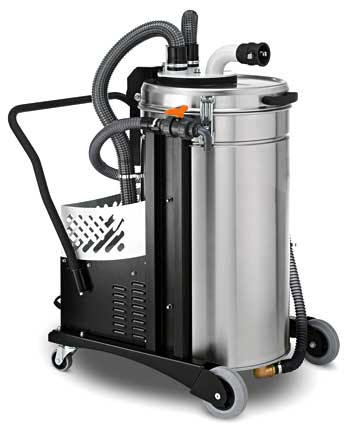 However, it is that lack of attention to stunning good looks that means the attention has been spent on the power within. You will find that a commercial vacuum cleaner is built more like a truck than a flashy sports car, and because of that, it will hold up to years' worth of daily vacuuming.
What most people don't realize is that they are usually pretty careful about the way they treat their home vacuum cleaner, and because of that, it lasts a long time. An industrial vacuum cleaner is designed to be beat up, thrown in the back of a truck, and used by dozens of people who don't really care if it lasts or not. The manufacturers of industrial models also realize that people will probably try to vacuum up items that are too big or inappropriate for a vacuum cleaner, so they keep that in mind, too. Vacuuming up a large piece of metal might destroy your home vacuum, but an industrial vacuum cleaner won't be bothered at all.
Why Should You Buy an Industrial Vacuum Cleaner?
Most people who buy this type of vacuum cleaner do so because they need to vacuum on an everyday basis. This may be because they have a lot of pets or because they have a small business or a lot of foot traffic. If you have an office, a business, or some type of company where people walk in off the street with a lot of debris on their feet, then you will always be glad you invested in a high-quality industrial vacuum cleaner.
What Is the Cost of Industrial Models?
Although you might think that a more rugged and sturdy industrial vacuum cleaner would be more expensive than a home model, the opposite is often true. In fact, you will find some very good industrial models at prices that are the same or even below the high-end home models. These models will last you for years and they often have longer warranties than home models, primarily because they are so well-built.
What Are the Features of an Industrial Vacuum Cleaner?
One thing that really differentiates an industrial vacuum cleaner from a home model is the length of the cord. While a home vacuum cleaner may have a cord that is only 20 feet long, you will find that most industrial models have cords of 50 feet or longer. The cords are usually thicker, too, which will enable you to vacuum large areas without the cord getting tangled up.
Most industrial models are also lacking in a lot of the extra features that you might get in a home model, such as small crevice tools or little wands to clean under the seats of your sofa. Almost without exception, the whole purpose of an industrial or commercial cleaner is to clean large areas of flooring (carpet, wood, or tile), do it quickly, and leave nothing behind.
What Are the Advantages of an Industrial Vacuum Cleaner?
Will last for years
Will clean as efficiently the first day as it will the last
Extra-long cord and a powerful motor
If you are thinking of buying one of these for your home, then the obvious advantage is that you are buying a workhorse.
What Are the Disadvantages?
Louder than home models
Not as good looking as home models
Heavier
Usually less features
However, that is a trade-off that most people don't mind making. Although you may end up with an industrial model that isn't quite as attractive or fun as a home model, in the end that really doesn't matter. You will be much better off buying a product that does the job and does it day in and day out.
How to Choose an Industrial Vacuum Cleaner?
The first thing that you should decide is whether you want an upright industrial vacuum cleaner, a canister, or a handheld. If you have a lot of floor to do on a daily basis, then you will always want an upright. They are easier to use and you won't be dragging a canister behind you. However, if you have stairs, small areas, or need to get under a lot of desks or chairs, then a canister might be better. On the other hand, many people find that a handheld that is carried over the back or shoulder, with a wand attachment, is the best way to do large areas of flooring.
Where Should You Buy Your Industrial Vacuum Cleaner?
It is rare that you will find a true industrial model in a traditional retail store or even your local vacuum store. These have always been bought from office supply companies or industrial supply firms, but now you can choose from dozens of different models by shopping online. Not only will you get a much better deal by buying online, but there is a much better selection.
There are several online retailers that offer a full selection of industrial models from all of the major manufacturers – Shop Vac, Hoover, Nilfisk, Carpet Pro, Kenmore, and Eureka. You will also find that these retailers carry a full line of belts, filters, and bags for all of these models.
How Should You Care for Your Industrial Vacuum?
One of the best aspects of an industrial vacuum cleaner is that the manufacturers already know that you won't be spending a lot of time caring for or maintaining your vacuum. There is an assumption that most of these machines will be used and abused, and they are built to withstand that. In most cases, the only things you will have to look out for is making the mistake of vacuuming up liquids in a "dry only" vacuum or failing to clean out the bag or canister before it is full.
Some, but not all, industrial vacuums have a built-in filtration system that will need to be replaced on a regular basis, depending on how often you use it and how much debris you are picking up. It is important that you price out these filters before you commit to any make or model, because they can definitely add to the long-term cost.
An Industrial Vacuum or a Heavy-Duty Home Model?
Deciding whether you actually require a true industrial or commercial vacuum cleaner is a difficult decision. Most manufacturers would say that if you are vacuuming every day, even if it's just a little, then an industrial vacuum cleaner is what you are looking for. Also, if you don't need all of the fancy tools and equipment that comes with a home model, then you will get a lot more power and reliability out of an industrial model, too.
Many home models have all kinds of features that may be fun to work with but don't really matter in an industrial setting. Home models are also primarily aimed at picking up animal hair and dander, which is usually not an issue in an office!
What Are the Best Industrial Vacuum Cleaners?
Shop-Vac Shop Sweep Indoor/Outdoor Vacuum. 
This is one of the most popular upright industrial vacuum cleaner products on the market . The most important feature of this product is that you can vacuum outside and pick up all sorts of debris. It has an enormous eight-gallon collection bag and filter that is easy to empty. It also has a built-in kick stand, a safety switch, and two height settings. It comes with a one-year warranty and is fairly priced at less than $200.
Vacmaster Wet/Dry Floor Vacuum. 
This is a canister model that has a four-gallon receptacle and runs at up to five HP. It has a variety of accessories that are all stored onboard and a secure fit hose. It comes with a 15-foot cord, with automatic rewind, and a large on/off switch that is easy to use and is completely sealed so that dust can't get into the mechanism.
The Hoover Commercial Elite Upright. 
A very basic upright vacuum that would look just right in any office or warehouse setting. It is sturdy, very highly rated, and affordable at just around $120. This model comes with many features that you don't often find in industrial vacuums of any kind such as allergen filtration, a two-brush agitator, and a built-in maid's cart hang hook. It has a manual four-position height adjustment and a convenient fingertip on/off switch. If you are looking for a basic model to run over your carpet every day, then this is it.
CPU 2T Commercial Vacuum.
This industrial vacuum cleaner is being manufactured by Carpet Pro and although this is a bit pricier (retailing at almost $400, but often found at about half that price), it may well be worth the price. This has a metal bottom plate and tools on board. It has an extendable stretch hose and also has a three-wire cord, which means that it will stand up to a lot more use and abuse than a traditional vacuum can.
Nilfisk Advance Backpack.
If you are looking for a true commercial backpack model, then you can't go wrong with it. This is considerably more expensive (around $700) than the other models, but it is a high-quality vacuum with a built-in HEPA filter. It has all the regular accessories you would expect in one of the industrial vacuums and with its 50-foot cord, you can vacuum a large piece of flooring with no problem.
All of these models are legitimate industrial models that come with long warranties on parts and labor (one year or more) and should hold up to daily use for years.
Which Should You Choose?
The first decision that you will need to make when buying an industrial vacuum cleaner is just how you want to vacuum. Some people really do prefer a backpack vacuum, but if you will be having multiple people use the vacuum cleaner on a regular basis, then you may want to choose an upright. If you are personally using it and want the lightest weight possible, then a canister will probably be your first choice.
Then, it's just a matter of whether you need wet/dry functionality, how long you want your cord to be, and what type of motor you will need. If you will be vacuuming up large pieces of debris, then it is worth paying extra for more HP. On the other hand, if cleaning and air quality are more important to you, then make sure you buy a vacuum cleaner with a HEPA filter and a bag or debris canister that is easy and convenient to empty.
For the most part though, choosing an industrial vacuum cleaner is much like choosing one for you home. You want convenience, good cleaning, and a product that will stand up to whatever you plan on putting it through.